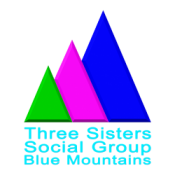 Welcome to The Three Sisters Social Group
A Social Group in the Blue Mountains of New South Wales, Australia for the Gay and Lesbian Community
2018 Blackheath Disco
Diary
The group is open to gay, lesbian, bisexual, transgender, intersex, queer people and their friends and families
The group arranges social events in the Blue Mountains region and members and visitors of all orientation are welcome.
We encourage an atmosphere of nondiscrimination, tolerance, and respect.
We support by donations to the local hospital, an HIV support group, assist with community health and welfare services etc and the maintenance of the HIV/AIDS Memorial Park in Medlow Bath.
Examples of our current activities include:
 Monthly dinner
Monthly luncheon
Summer barbecues
Flower shows/Garden Party
Annual disco during the Queens Birthday Weekend
Annual Costume Ball during the Queens Birthday Weekend
Australia Day Barbecue.
Countdown to Queen's Birthday Weekend - Friday 8 June 2018
BENTART 2018
The bentART 2018 visual arts exhibition will be held on the June long weekend 2018 at the Wentworth Falls School of Arts – Great Western Highway, Wentworth Falls.
• Entries Open March 19 -2018
• Entries Close May 14 – 2018
• Artworks Drop Off June 6 – 2018
• Hanging June 7 – 2018
• Pick up Artworks June 11 – 2018
Hours of Exhibition
• Opening Night Friday, 8 June 6.30pm – 9.30pm
• Saturday, 9 June and Sunday, 10 June 10.00am – 4.00pm
• Monday, 11 June 10.00am – 2.00pm
Afternoon Delight
Afternoon Delight
is a movie matinee and relaxed social afternoon for lesbian, gay, bisexual, transgender and intersex seniors and their friends. Enjoy the feature film,
Political Animals
and a selection of short films followed by a delicious afternoon tea, networking and access to local community health information.
Presented by ACON in association with Queer Screen.
Date: Saturday 21 April, 2pm – 5pm
Location: Carrington Hotel (Baroque Room), 15-47 Katoomba Street, Katoomba
Cost: FREE or gold coin donation
Facebook event: https://www.facebook.com/events/342233909606701
BOOKINGS ESSENTIAL
Call: Tyson on 0417 915 719 | 02 9206 2119
Email: tarapali@acon.org.au

Next Luncheon - Tuesday 27th March 2018
Wentworth Falls Bowling Club
Please book by Monday 26th March 2018
Make a Booking
Information