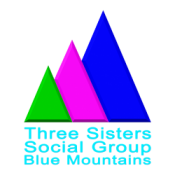 Welcome to The Three Sisters Social Group
A Social Group in the Blue Mountains of New South Wales, Australia for the Gay and Lesbian Community
2018 Summer Disco
Diary
The group is open to gay, lesbian, bisexual, transgender, intersex, queer people and their friends and families
The group arranges social events in the Blue Mountains region and members and visitors of all orientation are welcome.
We encourage an atmosphere of nondiscrimination, tolerance, and respect.
We support by donations to the local hospital, an HIV support group, assist with community health and welfare services etc and the maintenance of the HIV/AIDS Memorial Park in Medlow Bath.
Examples of our current activities include:
 Monthly dinner
Monthly luncheon
Summer barbecues
Flower shows/Garden Party
Annual disco during the Queens Birthday Weekend
Annual Costume Ball during the Queens Birthday Weekend
Australia Day Barbecue.
Pollys Club, final Spectacular Show and Dance for 2017
Join our friends at the Pollys Club for their final spectacular show and dance for 2017. A Christmas journey featuring the Pollys cast you know and love, traveling with Mary, Joseph and an ass in search of a star!
Saturday 2nd December 7 pm Petersham Town Hall – 107 Crystal St (Note The Venue Change) Bookings Open – https://www.thepollysclub.com.au/book
Go to their web site
"Written On the Eye"
Exhibition by Julie Martin: at Everglades Gallery, 37 Everglades Ave, Leura NSW 2780. All Members are warmly invited to the opening Nov 4, 2-4pm and can have a drink, eat cake and have a chat.  No charge for entry. The Exhibition runs from Nov 5-26 and is open Wed to Sun 11am-3pm. 
Julie has a long association with the Three Sisters Social Group. She has been photographing the Queens Birthday weekend Costume  Ball for almost 20 years. 
Julie had this to say about her upcoming Exhibition." " Written on the Eye" features images from both the Blue Mountains and my journeys to exotic locations including Uzbekistan and Morocco.  " not only captured by the lens, these images were imprinted within me. Some were taken by looking again at both the obvious and less obvious. Others are the result of an immediate and spontaneous impact. In this Exhibition, I have chosen images that spoke to me not only visually, but told me the many stories from beneath their surface ".

Next Dinner - 12th December
Christmas Dinner at The Chalet – Medlow Bath
46 Portland Road, Medlow Bath
Join us for a glass of sparkling wine.
Cost is $35.00 ($30.00 concession to members with Card)
Make a Booking

Next Luncheon - 22nd November
Wentworth Falls Bowling Club
Monthly Luncheon at Wentworth Falls Bowling Club from 12:00 noon
A special Christmas luncheon has bee arranged – Roast Turkey & Ham followed by plum pudding.
Corner Falls Road and Great Western Highway
Make A Booking
Countdown to Queen's Birthday Weekend - Friday 8 June 2018