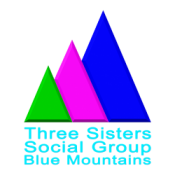 Welcome to The Three Sisters Social Group
A Social Group in the Blue Mountains of New South Wales, Australia for the Gay and Lesbian Community
Diary
The group is open to gay, lesbian, bisexual, transgender, intersex, queer people and their friends and families
The group arranges social events in the Blue Mountains region and members and visitors of all orientation are welcome.
We encourage an atmosphere of nondiscrimination, tolerance, and respect.
We support by donations to the local hospital, an HIV support group, assist with community health and welfare services etc and the maintenance of the HIV/AIDS Memorial Park in Medlow Bath.
Examples of our current activities include:
Monthly dinner
Monthly luncheon
Summer barbecues
Flower shows/Garden Party
Annual disco during the Queens Birthday Weekend
Annual Costume Ball during the Queens Birthday Weekend
Australia Day Barbecue.

Next Dinner: Wednesday 11th September
Avalon Restaurant, Katoomba
Please book by Sunday 8th September
Make a Booking
Information

Next Luncheon: Tuesday 24th September -
Grandview Hotel, Wentworth Falls - NOTE NEW LOCATION
Please book by Sunday 22th September
Make a Booking
Information